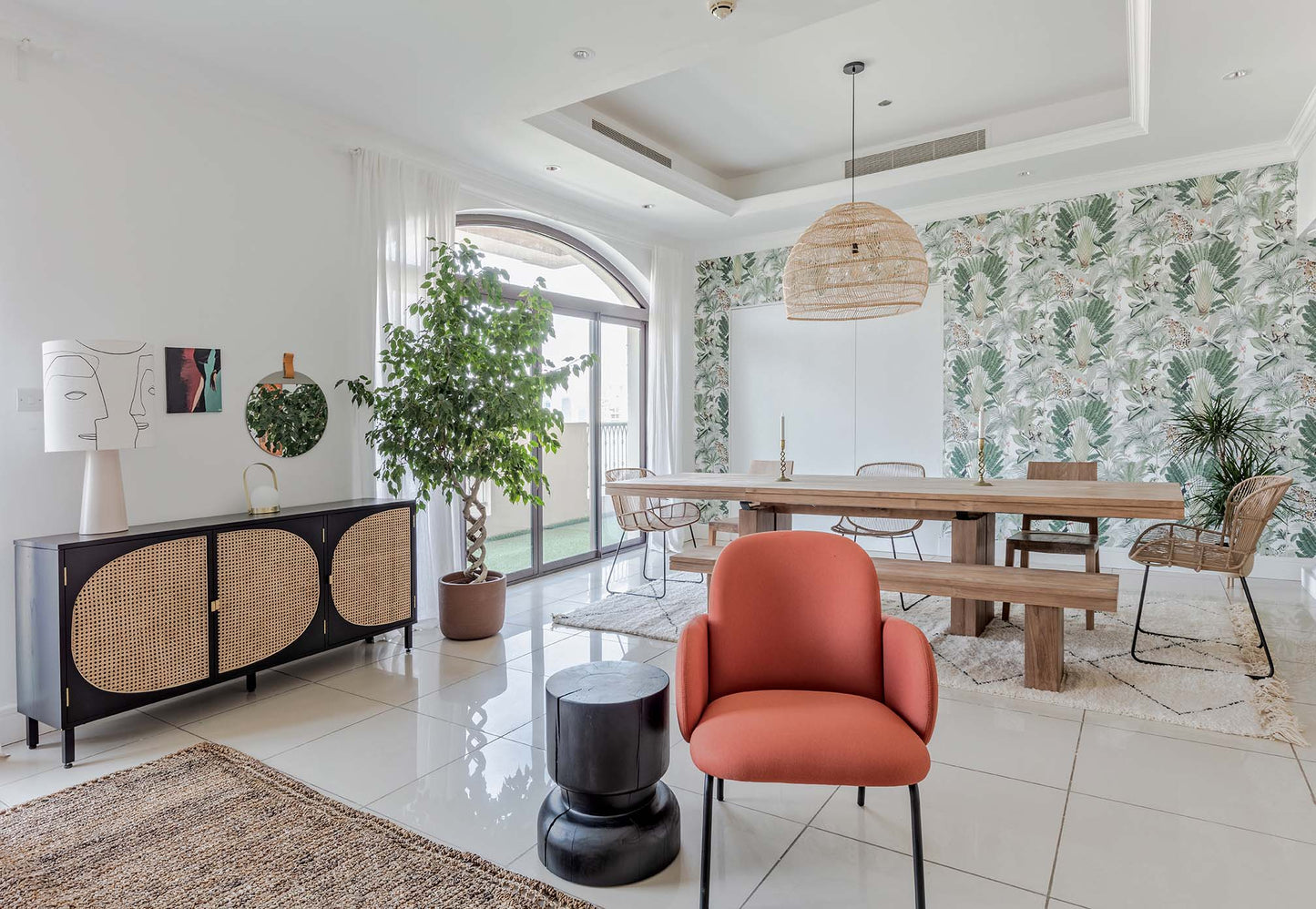 How to clean a Moroccan Rug?
Berber rugs will last longer than a cotton rug but you need to keep an eye on your investment...
"How to clean your rug? Very easily! I do have a few rugs at home and believe me you don't need to have kids to stain them! Just be one. :-) I usually ask my guests to remove their shoes if possible. To be honest everyone likes to feel the carpet with their feet so it quite easily done... If someone has dropped their grape juice glass on it, I will try to remove the excess liquid with a dry kitchen cloth right away. Don't wait. The quicker you do it, the better it is! 90% of spots and stains from spills can be prevented if cleaned right away. I usually put tons of salt on the carpet over night. It will absorb the rest of the liquid. You can use baking soda as well on greasy stains. Vacuum and repeat. Use water and vinegar if the stain remains. Do make a test on the color area to see if the black lines bleeds with water. Worst for the worst I have used oxygen bleach and sometimes OxiClean. Good luck. Don't let this put you off. These rugs are worth it! You can also contact Almadaen carpet." Audrey Soler, ecommerce lead THEPEOPLEOFSAND.COM
Where to clean your carpets in Dubai? 
King Tut Laundry - Free Pick up & Delivery. On the cheap side, but they do the job right. WhatsApp here Around AED50.
Almadaen carpet in Dubai +971 50 475 9394 carpetcleaningrepairing.com  They are specialized into Persian carpets and they apparently do marvels with Berber carpets too. Between AED300-500 for a 3x2m carpet. (Note that we are not responsible for any damages).  Free Pick up & Delivery.
BACK TO BERBER CARPETS COLLECTION 🔙
Everyday Tips 
Vacuum your Berber rug frequently. But do not use a vacuum cleaner that has a beater bar or rotating brush on it. This will cause fuzzing, fraying, tearing and shredding. It will ruin Berber carpeting. Your carpet should be cleaned with vacuum that uses suction only. The more suction the better. Be very gentle when you vacuum. Otherwise, you could damage the fibers. Just remember three words: slow, steady and thorough. Use a vacuum with very good suction. Then you will remove as much deep down dirt as possible. 
Spot cleaning tips. Here's how you can prevent stains. Clean up spills as soon as they happen. Pour a little baking soda on the spot to try to soak up the moisture on the carpet. Wait about 20 seconds, and then vacuum. Repeat the process until the baking soda stops absorbing liquid. 
But what if you end up with stains on your carpet because you missed out on cleaning the spill quickly? If so, blot the stains with clean, cold water. You can also try mixing vinegar and water. Be very careful if you choose to use water to clean your rug. A Berber carpet has a unique weave and can end up holding water. Don't use too much water. This can ultimately lead to mildew. 
What about wicking? This is when your carpet seems clean, but oils appear as it dries. Sometimes you'll need a second round of cleaning.
At a house --- 
1– Pick a shaded area of your garden. If you are in UAE, it most probably won't rain that day but it might be hot.
2– Vacuum perpendicularly to the pile direction and avoid vacuuming the fringe, If you have pets, use the brush attachment to remove any stray hairs.
3– If you purchased a rug shampoo, follow the instructions on the back of the bottle to find out how to use it. You can also use mild dish detergent mixed in a bucket with warm water. The ideal temperature range for carpet cleaning is between 100°F to 150°F. At this temperature, there would be enough heat to accelerate the chemical reaction during cleaning, but it will not be hot enough to shrink the rug or cause fading.
4– Do a Color Colorfast Test before you start scrubbing. It's important to colorfast test carpets and rugs to prevent color changes in carpets and rug. Test the solution on the corner of the rug to make sure it is colorfast. If the color doesn't bleed, it's safe to move on to the next step.
5– Wash the Rug Using a sponge or soft-bristle brush, work the cleaning solution into a lather on the rug. Let the cleaner sit on the rug for a few minutes before rinsing.
6– Rinse the rug. It must be hand rinsed using a blotting method,Blotting puts a small amount of pressure on the stain to soak it up. Use fresh water and apply lightly using clean microfiber towels and the same blotting motion as used to clean the rug. Rinse the soap out of the rug using a garden. Make sure all the cleaning solution is removed from the rug and the runoff water is clear.
7– Remove Excess Water. At this point, you'll want to get rid of as much excess water in the rug as you can so it will dry faster. You can use a wet-dry vacuum if you have one, or use a squeegee in the direction of the nap.
8– Let the rug dry. Avoid direct sunlight. This step requires patience. Try to wring the rug as much as possible to get rid of all the excess water. A squeegee can help with this step. After that, you'll need to wait for it to dry completely before moving it back inside your house. This may take longer than a day . Consider moving the rug to the laundry room or garage for more protected drying. Make sure the rug is fully dry before you return it to the room.
9– Vacuum One Last Time Put the Moroccan rug back in its place, and then give it one last vacuuming. The carpet fibers will probably be flattened and odd-looking after a washing. A thorough vacuuming is like combing your rug to restore its proper appearance. 
BACK TO BERBER CARPETS COLLECTION 🔙