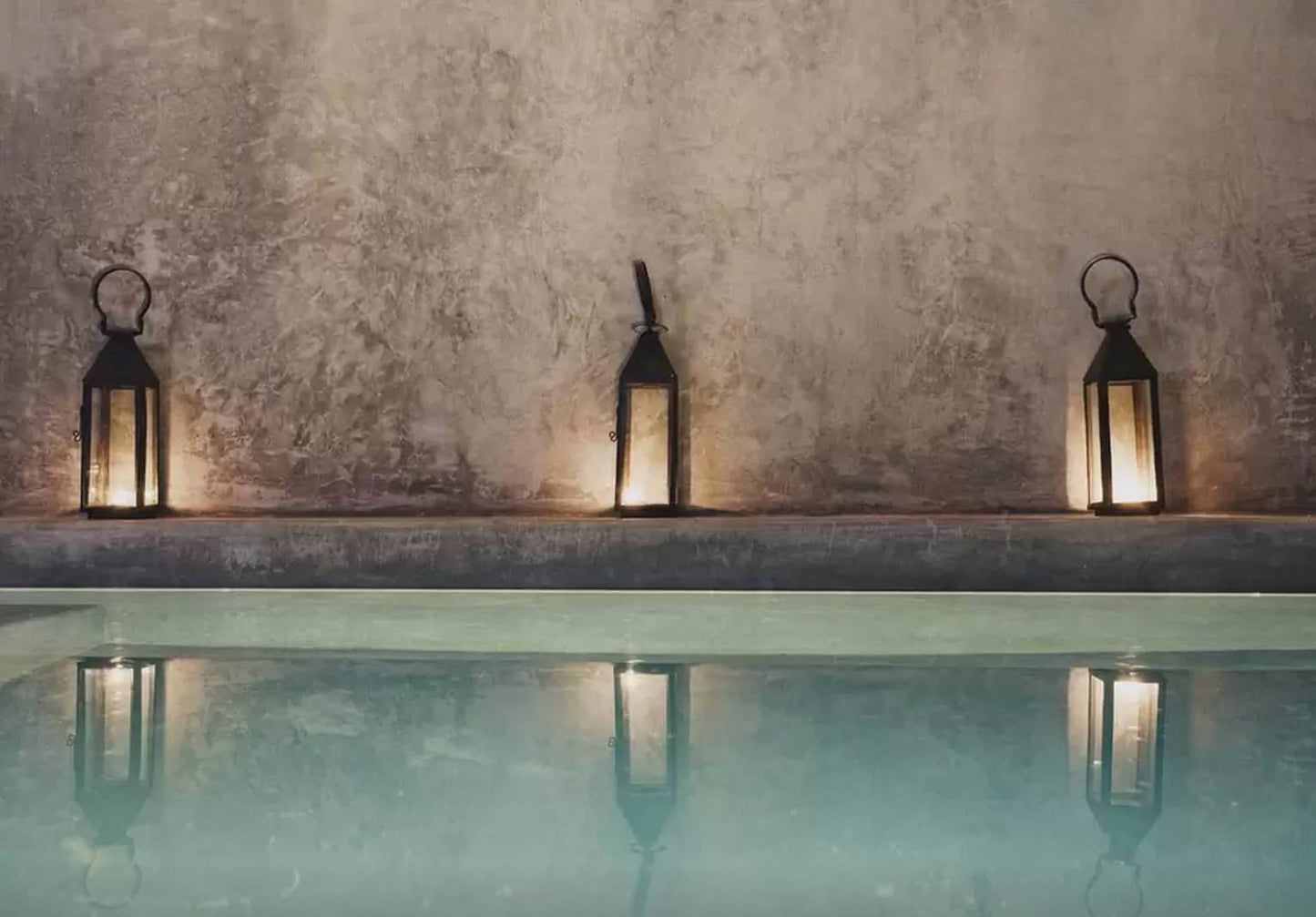 Interiors | Tadelakt, the original Moroccan plaster
Source: Pinterest
------
We love Tadelakt bathrooms for their clean look. I am not sure about you but I am not really into tiles on walls. This famous Moroccan plaster can also be seen on walls and flooring. Interior designs are big fans of it and you probably have seen it before without knowing what it was. We love it because it is quite uniform and clean. It resists to mould. With time it will crack a bit but it will also be part of its beauty. Apparently some of the residential palaces in UAE are using this plaster technique.
For the story, Tadelakt was initially used by the Berbers to waterproof earthen cisterns for the hygienic storage of drinking water. It was later used decoratively in exterior façades, in the manufacture of small drinking vessels, the construction of public bathing houses, and eventually in private bathrooms in Morocco.
How is Tadelakt apply? 
Make small circular movements with the stone, make sure there is enough soap water on the wall/object for your stone to glide on. After polishing with a stone, put a sock in a thin plastic bag and rub the surface in circular movements. The Tadelakt lime reacts with the soapwater and makes this lime plaster waterproof.
Enjoy this post! Audrey.
A great example in the home of Karine Kong who renovated her bathroom: 
beautiful blog from French photographer Karine Kong (Bodie And Fou) https://www.bodieandfou.com/how-to-use-tadelakt-in-a-bathroom-how-much-does-it-cost/
Here is a link to a professional in the UK that actually worked:
https://www.tadelaktlondon.co.uk/tadelakt/ 
[...] Tadelakt is a bright, nearly waterproof lime plaster, which can be used on the inside of a building as well as on the outside. 
Tadelakt excels in solid, chunky styles and can be used to finish interior walls, kitchens, fireplaces, seats, shelves, vanity units, washstands, baths, pools, spas, shower cubicles, wet rooms and steam rooms. Tadelakt can be used on floors as well, but is only recommended for use in areas where hard shoes will not be worn because the surface can be scratched by grit and small stones.
[
...] This lime plaster is made waterproof through both its inherent properties and its application technique. The olive oil soap that is rubbed into the surface of the product chemically reacts with the lime to form calcium stearate, which results in a surface that is both water and scratch resistant as well as hard and durable.
[...]